Congressen, Symposia en Evenementen
21-25 oktober, 2023
Rio de Janeiro (Brazil),
World Sleep 2023
World Sleep Society
The Best in Sleep Medicine and Research
Join Us in Rio de Janeiro for World Sleep 2023
The next World Sleep congress is coming to Brazil, October 21 – 25, 2023. The scientific program will feature keynote speakers, symposium panels, and individual presenters sharing the latest developments across the wide spectrum of clinical and basic sleep and circadian research. Two days of courses focused on clinical research and practice will include fundamental areas of sleep health like pediatrics, women's sleep health, and circadian medicine, as well as deep-dives into sleep disorders like OSA, insomnia, and more.
Registration is now open for World Sleep 2023! Register online today.
— Website World Sleep 2023
20th Masterclass Narcolepsy
European Narcolepsy Network
The 20th European Narcolepsy Masterclass is an full day symposium with participants from all over Europe. All aspects of narcolepsy will be covered: epidemiology, neuroanatomy and biology of sleep and wake, etiopathology, symptomatology and treatment. Furthermore there will be industry sessions and specific focus on practical issues: interactive case discussions on diagnosis and differential diagnosis.
— Website 20th Masterclass Narcolepsy
11 t/m 12 november 2013
Leiden
14th European Narcolepsy Days
European Narcolepsy Network
The 14th European Narcolepsy Days which immediately follows the 20th European Narcolepsy MasterClass, is a joint meeting with patients and includes clinical and scientific sessions on narcolepsy and its treatment, lectures on the most recent publications in the field of narcolepsy, pediatric updates, short presentations by young investigators on current research projects, a poster session and a keynote lecture on clinical, pathophysiological and therapeutic aspects of narcolepsy and its socio-economic impact.
Representatives of national patient organizations will host a joint workshop with clinicians and a second session in which questions prepared by patients will be discussed together with physicians and scientists.
— Website 14th European Narcolepsy Days
30 november - 1 december, 2023
Papendal, Nederland
SLAAP2023
Nederlandse Vereniging voor Slaap Waak Onderzoek (NSWO) en de Slaapgeneeskunde Vereniging Nederland (SNVL)
SLAAP2023 is hét congres voor artsen, onderzoekers, verpleegkundigen, verpleegkundig specialisten, physician assistants, laboranten, technici, (PhD)studenten en alle andere, niet genoemde professionals met slaap, waak en slaapstoornissen als werk- en interessegebied. ​Tweejaarlijks wordt het congres georganiseerd door de Nederlandse Vereniging voor Slaap Waak Onderzoek (NSWO) en de Slaapgeneeskunde Vereniging Nederland (SNVL) het Slaapcongres Nederland.
Na een volledig online congres in 2021 ontvangen wij u in 2023 graag weer op locatie. SLAAP2023 wordt gehouden op 30 november & 1 december 2023 in Congrescentrum Papendal!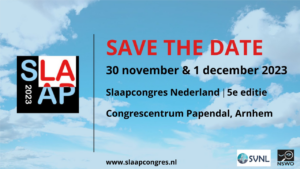 — Website SLAAP2023
Promoties
Nederlandse symposia