Congressen, Symposia en Evenementen
eSLEEP EUROPE 2023
ESRS
The eSleep Europe Virtual Congress organised by the European Sleep Research Society will be held 4–6 October 2023. This 2023 ESRS sleep congress is planned as an exclusive online event. We know your time and travel resources are limited and want to offer an accessible meeting where the decision to participate is not complicated. The vision for this virtual sleep congress is to allow a global participation, and to provide the opportunity for ESRS to spotlight the achievements of Europeans.
Pierre-Hervé Luppi, ESRS President and Erna Sif Arnardóttir, ESRS Secretary have agreed to serve as the Chairs of eSleep Europe 2023 representing the fields of basic and clinical sleep respectively.
Unlike our physical meeting, the virtual sleep congress sessions will not run as parallel tracks but focus one half day per track. Essentially the time commitment is only a half day per track but all participants will have access to all of the sessions and posters, both live and on demand. eSleep Europe 2023 will feature six half–days of education, categorised by track to include keynote lectures, year-in-review, symposia, controversies, roundtable discussions and oral and poster presentations. Each day will be split into two tracks, one in the morning and the other in the afternoon.
— Website eSLEEP EUROPE 2023
21-25 oktober, 2023
Rio de Janeiro (Brazil),
World Sleep 2023
World Sleep Society
The Best in Sleep Medicine and Research
Join Us in Rio de Janeiro for World Sleep 2023
The next World Sleep congress is coming to Brazil, October 21 – 25, 2023. The scientific program will feature keynote speakers, symposium panels, and individual presenters sharing the latest developments across the wide spectrum of clinical and basic sleep and circadian research. Two days of courses focused on clinical research and practice will include fundamental areas of sleep health like pediatrics, women's sleep health, and circadian medicine, as well as deep-dives into sleep disorders like OSA, insomnia, and more.
Registration is now open for World Sleep 2023! Register online today.
— Website World Sleep 2023
20th Masterclass Narcolepsy
European Narcolepsy Network
The 20th European Narcolepsy Masterclass is an full day symposium with participants from all over Europe. All aspects of narcolepsy will be covered: epidemiology, neuroanatomy and biology of sleep and wake, etiopathology, symptomatology and treatment. Furthermore there will be industry sessions and specific focus on practical issues: interactive case discussions on diagnosis and differential diagnosis.
— Website 20th Masterclass Narcolepsy
11 t/m 12 november 2013
Leiden
14th European Narcolepsy Days
European Narcolepsy Network
The 14th European Narcolepsy Days which immediately follows the 20th European Narcolepsy MasterClass, is a joint meeting with patients and includes clinical and scientific sessions on narcolepsy and its treatment, lectures on the most recent publications in the field of narcolepsy, pediatric updates, short presentations by young investigators on current research projects, a poster session and a keynote lecture on clinical, pathophysiological and therapeutic aspects of narcolepsy and its socio-economic impact.
Representatives of national patient organizations will host a joint workshop with clinicians and a second session in which questions prepared by patients will be discussed together with physicians and scientists.
— Website 14th European Narcolepsy Days
30 november - 1 december, 2023
Papendal, Nederland
SLAAP2023
Nederlandse Vereniging voor Slaap Waak Onderzoek (NSWO) en de Slaapgeneeskunde Vereniging Nederland (SNVL)
SLAAP2023 is hét congres voor artsen, onderzoekers, verpleegkundigen, verpleegkundig specialisten, physician assistants, laboranten, technici, (PhD)studenten en alle andere, niet genoemde professionals met slaap, waak en slaapstoornissen als werk- en interessegebied. ​Tweejaarlijks wordt het congres georganiseerd door de Nederlandse Vereniging voor Slaap Waak Onderzoek (NSWO) en de Slaapgeneeskunde Vereniging Nederland (SNVL) het Slaapcongres Nederland.
Na een volledig online congres in 2021 ontvangen wij u in 2023 graag weer op locatie. SLAAP2023 wordt gehouden op 30 november & 1 december 2023 in Congrescentrum Papendal!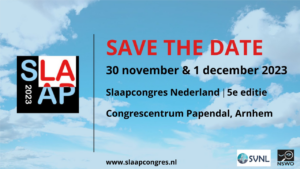 — Website SLAAP2023
05-t/m 08 februari 2024
Blankenberge, Belgium
International Sleep Medicine Course 2024
Belgian Association for Sleep research and Sleep medicine (BASS), the Nederlandse Vereniging voor Slaap-Waak Onderzoek (NSWO) and the British Sleep Society (BSS)
The BASS announces the next edition of the International Sleep Medicine Course (ISMC)
The ISMC is a joint organization of the Belgian Association for Sleep research and Sleep medicine (BASS), the Nederlandse Vereniging voor Slaap-Waak Onderzoek (NSWO) and the British Sleep Society (BSS). The ISMC has become an acclaimed international postgraduate program for professionals involved in the care of patients with sleep disorders. The aim of the course is to provide a comprehensive and contemporary review of the most relevant aspects of normal sleep and sleep disorders. This educational package should enable participants to prepare for sleep medicine examinations.
— Website International Sleep Medicine Course 2024
Update@Kempenhaeghe
Kempenhaeghe
Op 22 maart 2024 organiseert Kempenhaeghe weer haar klinisch wetenschappelijke symposium Update@Kempenhaeghe. Deze 24ste editie vindt plaats op de locatie in Heeze. Gedurende deze dag wordt er veel relevante kennis gedeeld, zijn er interactieve sessies en is er voldoende gelegenheid om te netwerken met andere professionals. Ook wordt er accreditatie aangevraagd bij beroepsverenigingen.
In één dag geïnformeerd
Tijdens het event staan drie thema's centraal: epilepsie, slaapgeneeskunde en neurologische leerstoornissen. Verschillende experts uit de praktijk komen aan het woord en nemen collega-professionals mee in de meest recente ontwikkelingen binnen deze thema's.
Medio november is het via onze evenementenwebsite, www.kempenhaeghe-events.nl, mogelijk om zich aan te melden voor het symposium.
— Website Update@Kempenhaeghe
18-24 Mei 2024
San Juan, Puerto Rico
Promoties
Nederlandse symposia
Update@Kempenhaeghe

Drie thema's: epilepsie, slaapgeneeskunde en neurologische leerstoornissen
Heeze